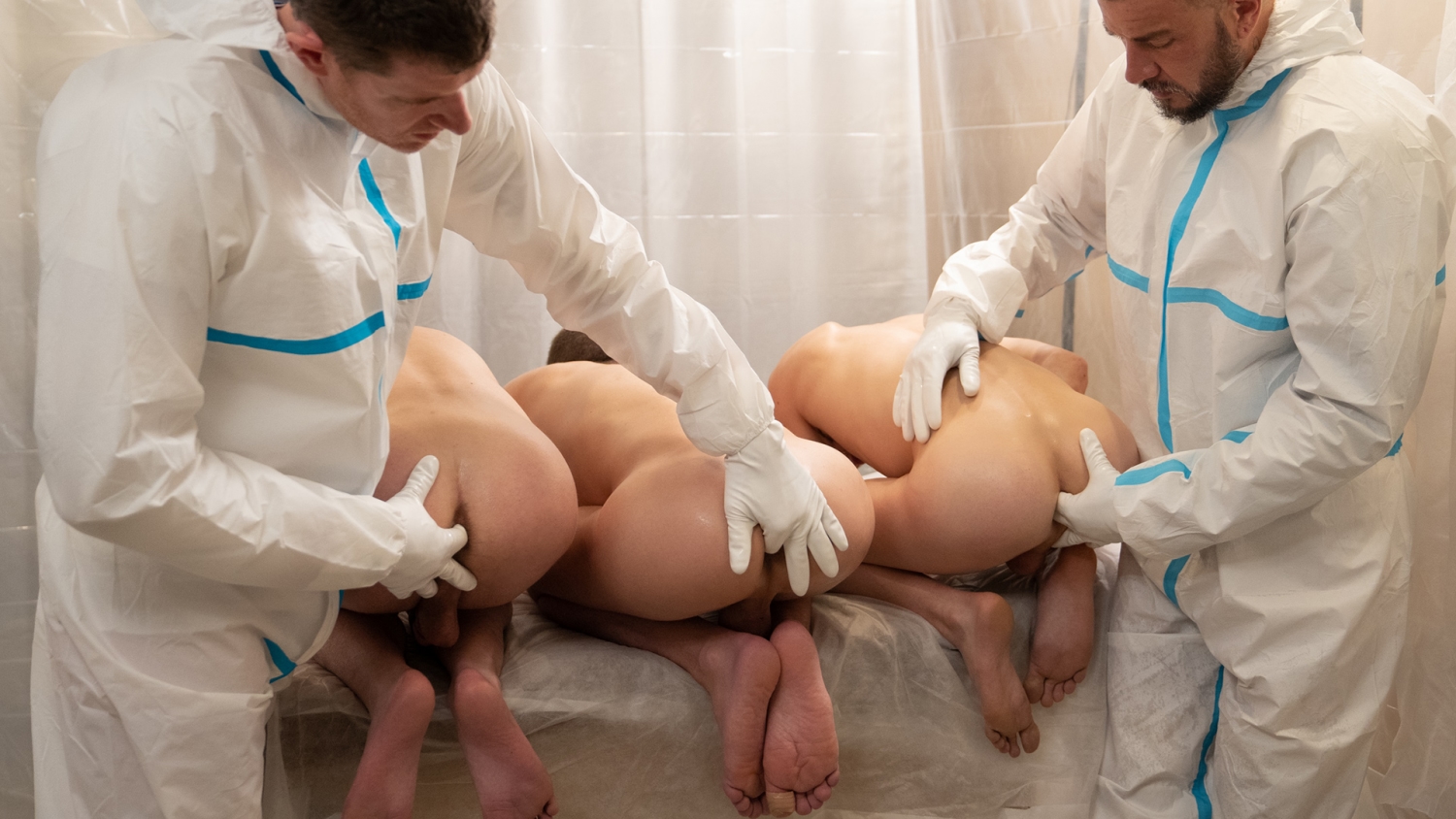 Global Outbreak : Chapter 1
Halloween Special
Mark, Austin, and Ian stood side by side, holding their hands over their dicks in an effort to cover themselves. Stripped down and exposed, it seemed like the only bit of protection they had left. They'd been washed and sterilized from all outside contamination, but standing next to the bigger, older, clothed men, they couldn't help but feel uncomfortable.
They'd seen each ...
Read more
They'd seen each other naked before, and they were no strangers to a physical. But this felt markedly different. Their hearts raced with anxiety, nervous about what the medics might tell then—and even more about what they wouldn't.
As the doctors inspected the young men, checking their bodies, poking their holes, and feeling their genitals, the boys wondered what they were looking for. They'd heard that it mostly affected men who had sex with women, leaving them in the clear. But then again, they didn't know what they didn't know.
They were completely at their mercy, helpless and vulnerable, with little choice but to put their trust in the doctors, agreeing to do what they said and enduring their pokes and prods. After all, what was the alternative?
As the exam continued, they turned around, placing their arms on the exam table and presenting their asses for the doctors to inspect. Their cheeks were spread, their holes fingered and teased, and their prostates poked and massaged.
They didn't know if they were supposed to like it, but they felt their cocks get harder with each insertion. Precum dripped from the tips of their shafts and soft moans began to fill the small, enclosed space.
For the boys, it was hard to separate their own desires with the circumstances of the moment. They were each being fondled and fingered by two tall, dominant men, towering over them and manipulating their genitals. It was clear they were each at least a foot taller than them and clearly interested in arousing a sexual response...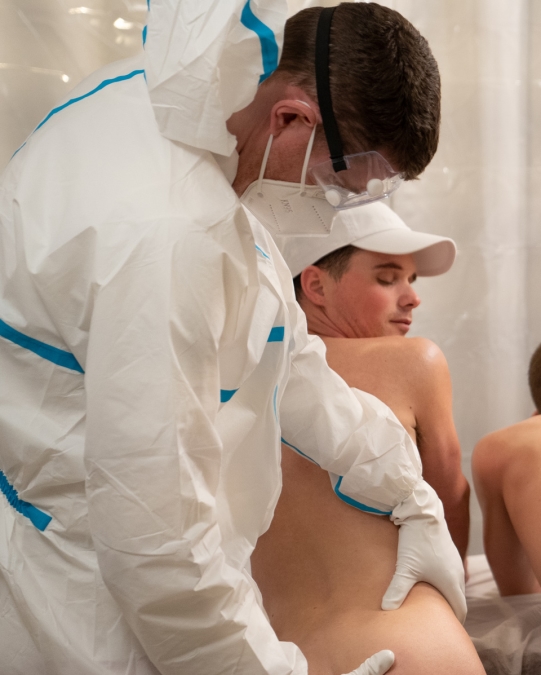 Height: 5'2"
Weight: 98lbs
Build: wrestler

Austin's been small his whole life. Even his parents were concerned he was never going to catch up to his peers. At 18 years old, he only stands at 5'2" with a 26" waist, and shops in the "boy's" section of most stores. But Austin doesn't mind since extra small boy clothes are a fraction of price his friends pay for the same clothes. In fact, Austin's found the world from his perspective to be even more interesting. He loves being around very tall men and feeling like their pocket-sized play thing.

Fortunately, most men are taller than him, but his dick gets even harder for the biggest giants around. This tiny twink has found his niche as a small boy for big guys and is eager to play!
Height: 6'6"
Weight: 225 lbs

Dolf has been the tallest person a room for most of his life. Not that he's gotten older and reached "daddy status", young men line up all over for the chance to worship his size, his cock, and his load. He's no stranger to a passionate, fuck, but there's nothing quite like the thrill of dominating someone much smaller than him! At 6'6", most men are several inches shorter, but his cock gets hardest when he finds a bottom that comes up no higher than his chest. The thrill of the hungry, upward glances combined with a desperation to be bred makes him lose all inhibitions and become a total fuck machine. As he meets his fun size boys, he experiences a kind of power and excitement that can only be had when he's fucking a pocket-sized bottom in the air or feeling them completely eclipsed from above by his muscular frame!
Height: 6'6"
Weight: 210 lbs

Dr. Wolf is an endocrinologist who specializes in helping young men monitor their growth. And in some cases, their lack thereof. But he understands that nothing about a short or small guy is necessarily unhealthy. In fact, it can be quite desirable. Towering over his patients at an impressive 6'6", he loves seeing the look in their eyes as they look up at him in his suit and tie. Professionally, he wants everyone to feel safe and secure in his office. Personally, he fantasizes about seeing each little guy mount up on his big cock! And when he gets the chance, he loves to make them whimper as he stretches their tiny little holes, and then completely submit under him as he pushes into their much smaller bodies.
Ian has never stood out among his peers. Mostly, because he stands at only 5'4" tall! Couple that with a shy, timid personality and he's often overlooked by the larger world. Despite this, he still has needs! He's never one to make the first move, but fantasizes day and night about a big, towering man sweeping him off his feet and fucking him hard. And with his size, he's easy to scoop up! Every time he meets a tall, handsome man, his loins get worked up, wondering if this is the moment when he'll be seen and chosen. As luck would have it, his short stature and sweet, innocent looks are about to get him a lot of attention... And a lot of deep, bareback breeding!