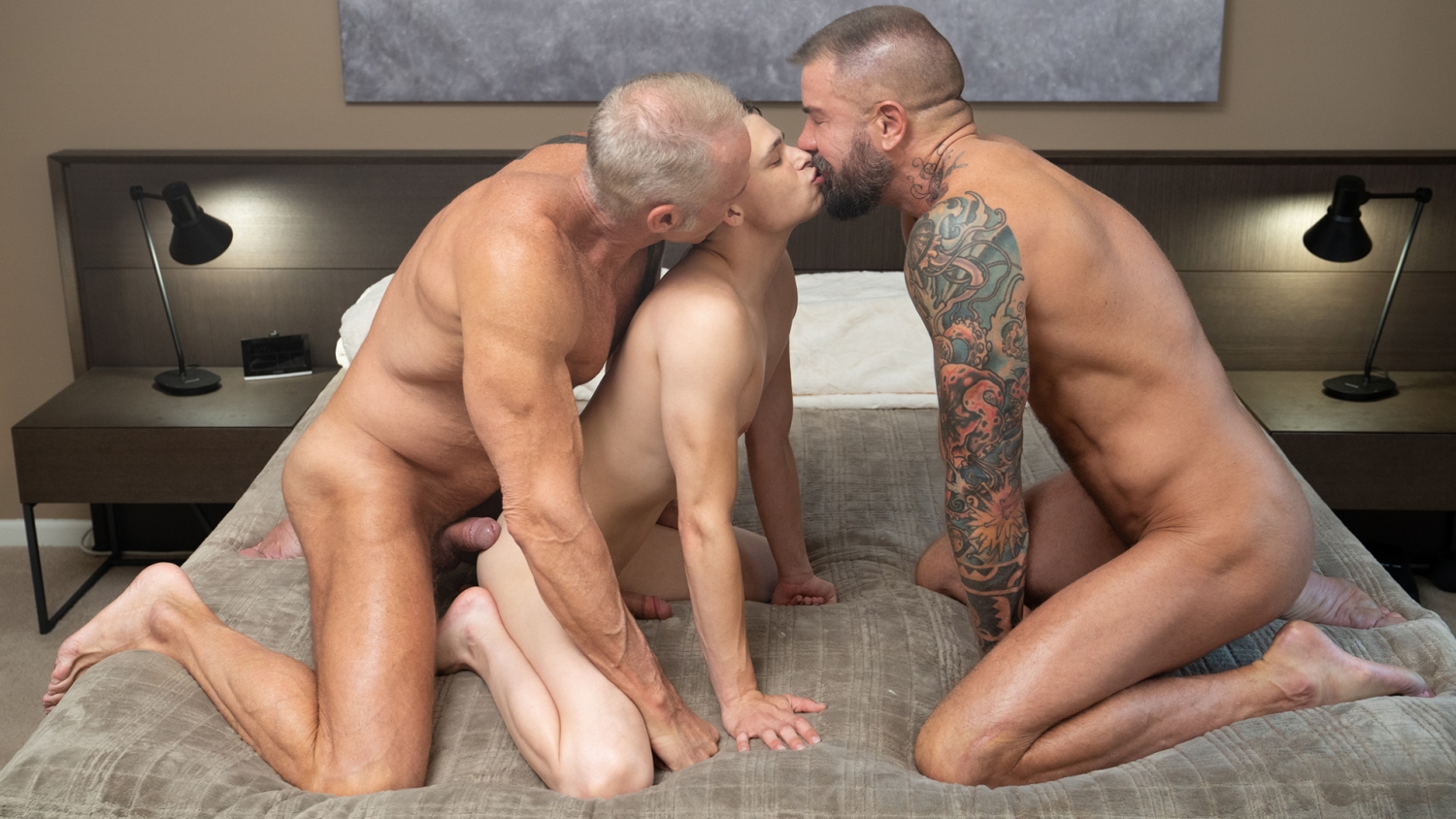 Austin's Two Daddies
It's no secret that Austin loves his king-size men. He relishes the feeling of their larger bodies wrapping around him, practically caging him in their limbs as they breed him deep again and again. While he's not one to kiss and tell, his tall companions can't help but gush over their compact bottoms.
Dolf and Dallas ...
Read more
Dolf and Dallas have been friends for years, sharing everything from secrets to fluids! When the two of them got to bragging about their recent sexual conquests, the similarities in their experiences were more than circumstantial. Each handsome, muscular, giant daddy described the tight, tiny bottom that they had who could take it like he was born for it, ultimately realizing they were describing the same amazing bottom: Austin!
These two guys aren't the least bit jealous. In fact, their minds went right to the same place. Coordinating their efforts, the two men managed to do something they'd never done before: share their fun-size guy together!
When Austin arrived, he practically couldn't contain his excitement. Seeing Dolf and Dallas sitting side by side on the bed was a beautiful sight to behold. Each man was over 6'4", covered in tattoos and muscles that made them appear even larger! The striking silver of Dallas' hair contrasted beautifully against Dolf's rich, dark beard. Austin knew he was in for a treat and could hardly wait to get it.
Standing next to the seated men, he barely stood eye to eye. His little frame was dwarfed by them, becoming even more so as their arms and hands passed over his body.
Austin was in absolute heaven, feeling them paw at his butt and kiss up and down his chest. His little hands couldn't help but gravitate right to their bulging crotches, familiar with what each daddy giant has concealed.
Once he had his pants and underwear off, the handsome men wasted no time in teasing his tiny hole. Austin moaned and as their fingers stretched his pucker, exposing the pink of his sphincter as they smiled and laughed with delight. They each loved having Austin's body naked and completely at their disposable, but the idea of sharing him as a couple of buddies made it all the more fun.
The thrill of being dominated and shared between these two titans got Austin rock hard, but it was the shaft of each of his mature masters that he was interested in. He dropped down between their legs, pulling off their briefs and swapping each cock in his mouth. He practically unhinged his jaw to get Dallas' meat between his lips, taking it down to the balls and trying not to gag. He moved over to Dolf, doing the same, failing to keep his throat from closing in on the big man's tool.
Austin wanted to be fucked, though. He saw the glistening supply of saliva that his throat provided to the knob of the dark bearded top and turned around to sit down on it. His tight ass felt the intense pressure of the thick member as it kissed his hole, resting in place for a moment before it split him in two.
Austin stood practically standing, his knees barely having to bend to get completely down on the seated giant's member. Dolf looked down as Austin expertly milked his tool, loving the way his size allowed him to mount himself and still stand tall. Dallas watched on in glee, stroking his still-wet cock, waiting for his chance to experience the soft insides of Austin's hole on his cock. He didn't rush his buddy, though. He knew there was plenty of the tiny twink to go between them. And he wasn't leaving without a full supply of each of their loads…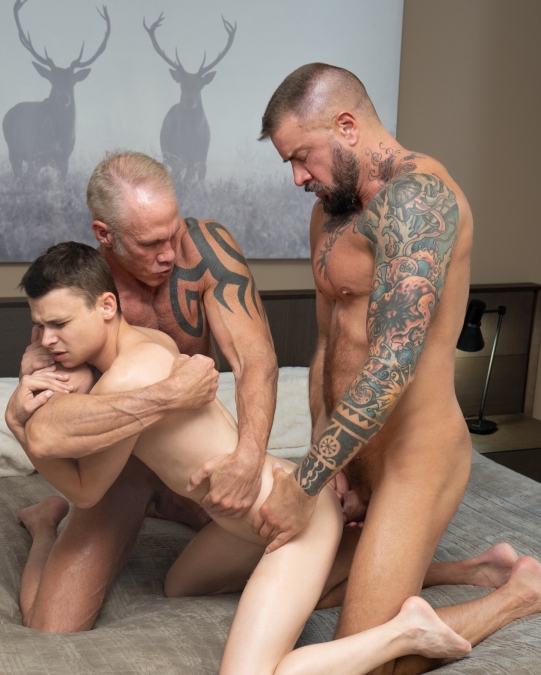 Height: 5'2"
Weight: 98lbs
Build: wrestler

Austin's been small his whole life. Even his parents were concerned he was never going to catch up to his peers. At 18 years old, he only stands at 5'2" with a 26" waist, and shops in the "boy's" section of most stores. But Austin doesn't mind since extra small boy clothes are a fraction of price his friends pay for the same clothes. In fact, Austin's found the world from his perspective to be even more interesting. He loves being around very tall men and feeling like their pocket-sized play thing.

Fortunately, most men are taller than him, but his dick gets even harder for the biggest giants around. This tiny twink has found his niche as a small boy for big guys and is eager to play!
Height: 6'4"
Weight: 224 lbs

Dallas takes pride in his appearance. He eats right, works outs, and makes sure he dresses in style. As a taller, muscular man, 6'4", he knows the importance of a good fit in his clothes. As a tailor, he sizes men up all day long. But there's nothing more satisfying than seeing the extremes of the sprectrum.

When he finds a handsome smaller client, he loves wrapping his measuring tape around them and experiencing their size up close. And sometimes, when the client is extra tiny, he can't help but take a little longer on each measurement.
Height: 6'6"
Weight: 225 lbs

Dolf has been the tallest person a room for most of his life. Not that he's gotten older and reached "daddy status", young men line up all over for the chance to worship his size, his cock, and his load. He's no stranger to a passionate, fuck, but there's nothing quite like the thrill of dominating someone much smaller than him! At 6'6", most men are several inches shorter, but his cock gets hardest when he finds a bottom that comes up no higher than his chest. The thrill of the hungry, upward glances combined with a desperation to be bred makes him lose all inhibitions and become a total fuck machine. As he meets his fun size boys, he experiences a kind of power and excitement that can only be had when he's fucking a pocket-sized bottom in the air or feeling them completely eclipsed from above by his muscular frame!